FISHING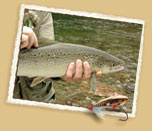 SALMON FISHING
Atlantic Salmon Fishing
Atlantic salmon are unlike any other type of salmon. Returning to the river where they were born every summer to spawn, they display extraordinary strength and perseverance. Fortunately, salmon have to rest occasionally along the river, enabling fly fishing enthusiasts to observe, learn, and analyze their unique and complex behavior and possibly match their skill and strength against one of these remarkable creatures.
Salmon fishing is a very specialized activity enjoyed by great sport fishers and amateur anglers alike. Strategically located near the Madeleine River, Camp de la Haute-Madeleine specializes in this activity.
Season: July 1 to September 30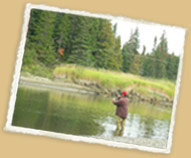 The Madeleine River
The Madeleine River is rightly considered to be one of Quebec's major salmon rivers.
The river has five different sections with a total of 74 pools where 80% of the fishing is wade fishing.
See map of camp and surrounding area
Information and Statistics
The fish ladder opens on July 1, the official start of the season.
The season ends on September 30.
Read up on salmon fishing regulations.
Here are a few statistics that show the Madeleine River's potential:
2000 to 2008 Average

Use
(Fishing Days)

Spawning Runs

Success Rate

MADELEINE

1 009.2

1 075.8

0.22

Cap-Chat

564.9

336.3

0.20

Darmouth

1 145.4

945.6

0.16

Sainte-Anne

1 259.8

687.2

0.23

York

3 706.6

1 713.8

0.16
>> Statistics for 2000 to 2008 (PDF)
How to prepare:
We suggest you read
Guide de pêche au saumon de l'Atlantique
by Gilles Bernatchez.
Equipement :
Fishing rod: We recommend you bring two fishing rods, (9' or 10' with #8/9 line). This ensures you will have the right rod for large rivers and canoe fishing as well as for small rivers and streams.
Cap/hat
Sunglasses
Sunglasses
Recommended flies:

Wet flies: Black Bear Green Butt, Green Highlander, Green Highlander
Dry flies: Bombers (all colors)
Streamers: Magog smelt, Muddler, Beaulieu special
Accompanying guests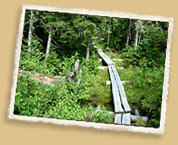 Vacationers accompanying anglers have a variety of activities to choose from. In addition to enjoying superb fishing, vacationers stay in comfortable cabins surrounded by mountains on one side and lakes and the sea on the other. This pristine wilderness sets the stage for amazing outdoor adventure, including hiking, nature observation, rafting, and a host of other exciting scenic activities.