ACCOMMODATION & FINE DINING
ACCOMMODATION
Our vacationers will enjoy the pleasure of a wilderness experience where they can leave traffic, the city, and their worries far behind. Camp de la Haute-Madeleine features world-class facilities that offer cozy accommodations and maximum comfort in a picturesque setting.
Three cabins are available to visitors:
Le Huard
L'Épervier
Le Pêcheur
Our world-class log cabins, which were built only a few years ago, guarantee comfy, cozy rest.
All three cabins face Lac au Diable and can each accommodate up to six guests. Because they are fully equipped and furnished, you can have total freedom and independence—if you so desire, of course!
These log cabins include…
Accommodation for 4 to 6 guests
Solar-powered or propane lighting
A fully appointed kitchen (propane)
Two fully equipped, ultra-comfortable bedrooms
A bathroom with hot water and a shower
A fully equipped living room
A slow-burning stove
A small barbecue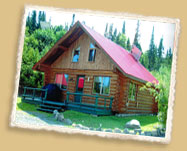 Watch the sun rise over Lac au Diable from your cozy little hideaway before you get ready for the day's adventure.
The crowning touch to our facilities is the main camp, which features a dining room and is available to vacationers seeking a place to get together and socialize.
No pets are allowed in our cabins.